Where did they get it, and why are they sending me this information?
New deals at Reeds!
Cell C gives you R40 airtime...to opt out sms STOP.

Mdunguni safety gates, now 20% off to you, thank you for your support.

Game special vouchers up for grabs, sms SAVE to...

Holiday club specials, go when no one else goes!




And the list of simple emails and sms's are endless. Where did they get my details...whenever I sign or agree to anything online I make doubly sure that there are no boxes ticked or no questions answered that gives them the remote possibility that they can "alert me of updates" or "send me promotional packages on free gifts and savings" or "subscribe and receive more for less". I made sure.
The only people that have my details such as cell number and email address are the service provider and the bank, my work and FaceBook - I know FB cannot sell off my information, why would they, if they are spying on me, they'd know that I'm not interested in safety gates or updates on new Opels!




Where do the people who send us promotional updates or any kind of marketing material, get our details? I've been away from work for 5 days, when I got back, my Outlook was filled with 600 unread emails...and the worst of it all...60% of that was over the weekend, yes, a Saturday and Sunday spam affair! From new camera's and PlayStations to TV's and DVDs and groceries and new houses on the market to new cars to new offers from insurance companies...when did I show interest, when did I agree to accept marketing material from all these companies? When did I knowingly hand over my details?

The worst is, that to try and stop all this spam is virtually impossible...I can't stop it, to stop it costs money! You didn't pay me to accept your material, why are you asking for money now to get your to stop bombarding me with your material?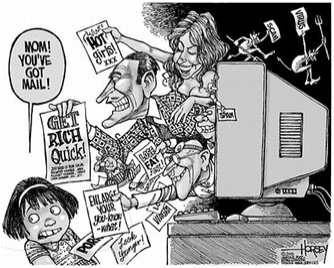 How did they decide that spamming people's phones and mailboxes was an acceptable form of advertising? Is there an advertising body in SA? When did they decide that sending me an sms at 3 in the morning telling me that if I reply now, I can get 15% of the next golf clubs I buy? I never bought any golf clubs, as a matter of fact, I never set foot into any golf shop!

OS over and out - how do I stop this nonsense...it seems to happen every month end, once a month, then there's no spam, and then all of a sudden, a horde of emails and sms's are sent my way in hope that I respond and react to it? Is this something I'll have to live with? Something I'll have to accept? Is this something that has become a norm, are they hoping that if I don't respond, I'll meet a total stranger who wants to buy golf clubs, and then tell him about that sms number and maybe he'll get 15% off the next golf club? Is this their strategy, to get me to talk about how bad a service this is, when its actually a good idea?