| | | |
| --- | --- | --- |
| | | |
It shocks me how many news reports and headlines pop up everyday on every tech website reviewing, complaining, lambasting, worshiping Apple. Their fascination with this company is beyond me. Every move made by Apple is scrutinized to the point where we have people like Sam Diaz who calls himself an Apple Guru...yes you read right, there's actually a title for the person who knows more about Apple than Apple...an Apple Guru.




Analytics:
Imagine this, everything a company does, anything, is documented and analyzed for the masses to make an opinion off, remember that an analysis, be it expert or not, is still just someone else's impression on a topic of interest. An analysis of Apple's 3G or 4G is just someone who's qualified in Apple history talking about their experiences on the 3G and 4G issue, not Apple themselves. Its just Sam's rendition of what he thinks is happening, would happen, and won't happen. Unless Apple actually releases a statement to the ever present press, everyone just basically goes with Sam's opinion on the 3G and 4G version of the new iPhone – and Sam thinks its great, so it just has to be right?

Rules of engagement:
But there is a good reason why we can all listen and read Sam's impressions on Apple, because Apple uses a very lean approach to releasing products, or making money as its actually what they do. They will package a product so lean, that when they release a second version you'll want that too...and give your older version to your niece. Anything Apple touches, has to comply with their rules of engagement, you can now listen to music on your Kindle...only if you have the iPod or iPhone, yes. I'm sure in 2130; you'll be able to buy McDonalds, only if you are a registered owner of an iPhone 43G.


Why are you surprised?
Why are people surprised when 2 versions of the iPhone, iPad and iPod are released? Apple tells you that the technology is not ready yet, it's been ready for the past 10 years, it just make sense to sell the technology in two different yet the same products. 3G and then 4G, God forbid you bought the 2G. 40Gig then 60Gig and 80Gig. That 80Gig will be followed by a very new iPad with 100Gig if you don't watch out! It astonishes me that people are still surprised at Apple's product offering and packaging, whatever they do, the market will respond positively, and worst of all, the myriad of competition will shamelessly follow and brake patent laws knowingly unknowingly. The IT industry has strived off this version cycle sales-type approach for decades, and its worked!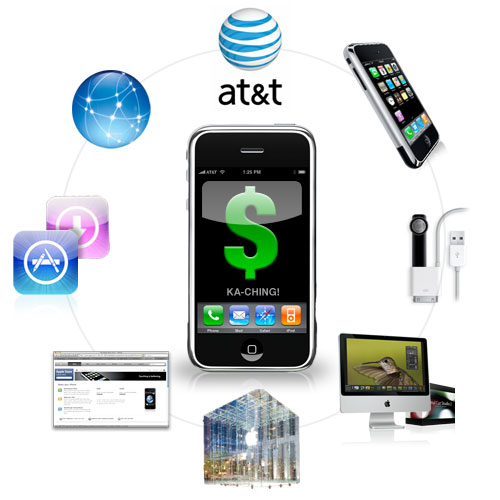 Apple Loop:
That's the business model, like everything Apple, cleverly designed to make money, and they are good at it. The Apple loop clearly shows how lock - in strategies are the way to go, "you can get this if you have this" type of mentality. That's only the start of it all; pretty soon, you'll be totally excluded if you DON'T have anything Apple! Apple, basically takes an existing technology, package it so good that you believe its something new! The iPod...nothing new! The touch screen with movement detection...old age! The iPad...seen it all before! But this is where Apple has the magic ball and the Tarot cards and the wizard and the magician and David Blaine on their side, they make all this existing technology available to everyone and anyone, and everyone who's anyone who's not Sam Diaz, will not know that the technology existed, but they'll believe that Apple is innovative and the technology is brand new and Apple had it first and Apple is the best. Simply put – Apple sleeps with your mother, your father, your sister and your dog, and worst of all…with you if it sees potential market share in mediocre or untapped markets!

You gotta love it:
You have to, no matter who you are, even Sam loves it, you have to love Apple, they take what we know but don't know, and make it available to all of us convincing us and at the same time have us screaming from atop a mountain "we need what they have to offer", package it so good that they make billions off it, and then just when we get used to the technology, they bombard us with more innovation! I love Apple, I have not a single Apple product in my life, but I've used them all bar the iPad, and I will happily fall into the Apple trap of lock - ins and accompanied technology from a partner etc. But that's just the trick, that's what Apple does, it makes us want what they have, we cannot deny it.




OS over and out - pretty soon, the ever popular saying "An Apple a day keeps the doctor away" will have a whole new meaning all together.