| | | |
| --- | --- | --- |
| | Posted by OS GIKEN in virus , University , Tswane , Sicko , Scrubs , Rich , poverty , poor , Healthcare , Gray's Anatomy , free , Doctor , Canada , ANC , africa | |
The National Health Scheme...where everyone in this country, illegal immigrant or not, will be able to go to a doctor and demand service for his/her teeth, for his/her broken leg, for his/her cock eye for his/her lower back pain. This sounds wonderful, but do yourself a huge favor and go watch the movie "Sicko"...




Sicko:
This movie or doccie documents people's lives in different countries and the type of health care they are provided with...sometimes for free. The best to date has to be Canada, where people get rebates for not using their allocated funds for medical purposes. Obviously, Canada chose to fund this scheme through huge taxation on working class people. But then again, Canada is not in Africa, and thus we cannot compare Canada to South Africa.

South Africa, eSickoh:
Now our clever politicians who believe they can do everything under the sun has come up with a way to deliver the under-carpet promise made in 1994...here's their proposition in simple terms...not even Layman would argue this:

"Everyone, poor and rich, gets free healthcare, we don't stipulate what "healthcare" entails, and we don't stipulate what will happen to people already on private healthcare schemes, for all we care they can stay where they are, but as long as poowah(poor) people get the care they need, we are happy. We will pay for this by demanding...yes, demanding the rich pay for this simply because they are...erm, rich"

Now, if like me you have been an avid political follower, by this I mean can't wait until someone in the ANC opens their mouth, then you'll notice that when things are directed towards people the tone of the ANC changes...it gets more aggressive, more hateful, more racist dare I say. That guy that can't talk properly, was all over the radio yesterday quoted as saying something along the lines of, "some would think we should charge this free healthcare onto the taxable amount of working peepol...but we are not, by doing this you are taxing the poowah, the rich must pay for this free healthcare".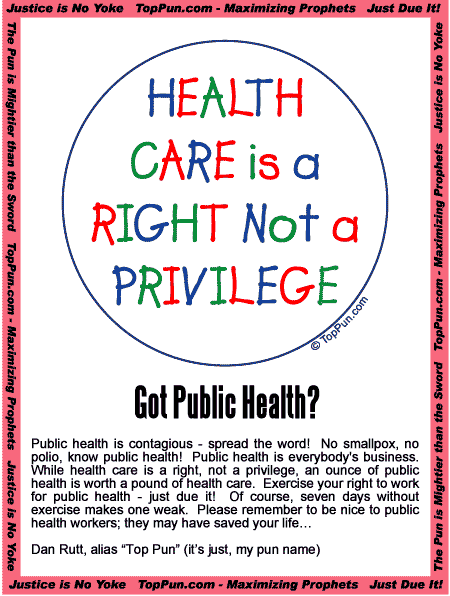 Live rich, die poowah:
So if you read between the lines, you'll notice what I had noticed...These guys don't know what they are doing. They think that for once that they have given something 10 mins of thought; it should come to pass immediately! But I guess its no secret, ANC and thinking are like Mars and a button on the remote control, no relation whatsoever! Obama was given flack for his stance on this same topic. Now, the ANC, in their infinite wisdom, decides that the rich people, for just being silly rich, you know, just because, must foot the bill if the poowah people can't foot the bill for a broken foot. The rich get away with allot of things in life, but that in my opinion is how the cookie crumbles and how it should crumble. It's been crumbling like this since the beginning of time! How does one decide who is rich and who are poowah? I know a couple of very wealthy people who like to plead their 809th amendment to declare poverty! And how will the rich foot the bill? Will they be taxed? Or will they be assigned a squatter camp location, and that certain location now belongs to them to look after, medically!




Spit in the face:
This to me seems like a spit in the face of rich people the country over. There are tons of rich people who do way more than the government with regards to giving, not just receiving. How many rich people give to the poowah, how many rich people have charities in their name, just for some government official to come and steal the money? This is against the way of the rich. Don't force them to pay for the poowah, and they won't feel the need to not give...they only give because they are not forced. There is one thing you need to understand about the rich...their money is their money. Not God's money, or the kids', or the wives' or the company's...its theirs, all theirs! Paying for the wellbeing of the poowah, well, let's just say its not in their budget!

Free Healthcare - free for whom?
If something is free, it's free for all, except the one giving it out for free. Teach this to all kids now...something that's free has cost someone else something! A free lunch has cost the restaurant resources and time...a free blowjob has cost some girl her childhood and many other things, a free Cellphone has cost all the millions of other Cellphone users incy winsy sums of money that they don't even know they were giving! How can healthcare be free, when the rich are paying? They should say, free healthcare for those who cannot afford. I know teachers cannot afford healthcare, they can't even afford houses. Because they earn too much for government houses, and they earn too little for private houses financed through a bank. So...how would they determine who would qualify for free healthcare? There are so many spin-off's from this scheme should it come to pass...here's a couple:

The rich will get richer - I don't know how they just always do.