Review "Air Wings"
Today I am going to give my review on the popular iPhone game , Air Wings .
Basically in this game you are the pilot of your own little paper folded airplane and fly around scaled, real life environments . The idea already is really good and will intrigue people in the sense that it just continues where their 5 year old imaginations left off when they were flying their real life paper planes .
The goal of the game is where it gets really interesting instead of just racing these planes or collecting coins or anything like that you fight them ... This game puts 2-4 player against each other in a cartoonish toy dogfight to the death where you collect new weapons and ammo that spawn around the map regularly and ensures for endless funny and interesting scenarios .
You control your plane via the phone's g-sensor and shoot with your right thumb and use your speed up function with your left thumb . This all while dodging ruthless opponents , leaving behind strategically placed parachute bombs and flying with finesse through the tight gaps to get the upper hand on your opponent . The game also boasts an in game voice function meaning you can chat to whoever you are playing to in real time, the whole time . And to top it all off the online gaming is managed by apple's Game Center so you can challenge friends or see where you are on the leader boards .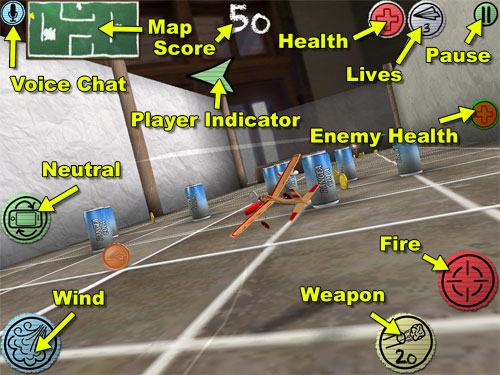 Now at this point it probably starts to sound like it is going to get technical with different maneuvers and tactics that only veteran air force pilots could apply but , that's the beauty of this game it still just stays so simple to play and so childishly fun that it is just truly great .
Andre "LC1337crazer" Lourens