They've given it different names, yet it still looks the same. From laptop, to notebook to netbook…who knows what the differences are? Some will quote you the differences off hand, some will swear there is a noticeable difference, but honestly…there is no difference, its something that's not stationary, you can carry it around and work on it no matter where you are! Now, it's no more a phone war. Microsoft dabbled in phones to steal some of Apple's market share, and then Steve became blatantly upset, and vented like any self respecting man would. Now, everyone is tossing his supposed salad!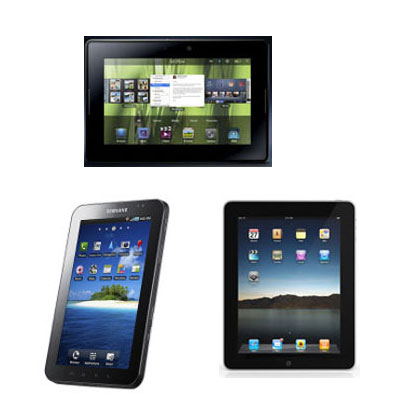 Apple has the iPad. Blackberry has the Playbook, and Samsung now has what they call the Galaxy Tab. As many tech fundis would argue, Apple is great with taking old already established non-business model molested ideas, and then molesting it with a business model to take over the world, and they actually or eventually do! Blackberry on the other hand, well, we know them from RIM, who makes great business phones, who also dabbled in the market the iPhone dominates, and now wants more of the share Apple swims in every quarter! They make phone tailored for business! Do they now make Playbook's tailored for business as well? Samsung…well, from the days of phones to the days of now makes workhorse Tab's that plan to take over the galaxy! I'm not so sure about this one though. The other two, with well established roots in the business world, Samsung has always been seen as a phone for anything else but business, how would their laptop, excuse me, Pad be accepted?
I've set up a list of criteria, you know, aspects I believe will allow these tabs and pads and playbooks to take over the world of business which is run by netbooks/laptops/notebooks! Because, in order to release a product that has the same target market as the product already existing…you have to either match the existing product, or outdo it in areas that really matter!


All three of these new computers will have to abide by a certain set of rules, the 10 commandments of business computing if you will:
RAM or space is a huge selling point in laptops (for the sake of the article, we'll refer to laptops and not note-netbooks) for business purposes! In order for these 3 new touchy-screeny types to be accepted it would have to beat the best offerings out there in terms of space which goes hand in hand with speed. Having a touch screen means there is no time to have your pad or tab hanging! As I understand, the interfaces of these products are already astronomically fast…the Galaxy would then have no issue with speed or size, as its as big as the galaxy with so much space, and they don't travel in time there…they travel in light speed!

Ergonomics is a very important aspect that makes the laptops best suited for business in my opinion. It's robust and tough. Have you seen how people just chuck their laptop bags into the boots of their cars? One would never be able to do that with an iPad or a Playbook…these things look too nice! With a laptop, you have the sense of carelessness. You can scratch here, spill there, rub here and tuck there…with these new-age pads, you don't get this sense, if anything, you are more careful around it, I would rather my business people make deadlines then keep on cleaning their pads' screens!

Interfaces are also important. Laptops have a certain widely accepted interface. You get ones with Windows and you get ones with something other than windows. But the principle still remains…It looks like a window where you can do all your work on, and no matter what OS you use…at the end of the day, it still delivers the same function. With these pads though, there should be seamless integration with other nonsensical people who still use laptops! Neither hardware nor software should be a pitfall for using the same type of data etc. The laptop is still a PC, people keep on forgetting that, the only difference is that you can take it with you whereas a PC stays in the office or at home…

Carry-around factor is another criterion where the tabs will have to outdo the tried and tested laptop. Even though the laptop's fabled Achilles heel is the carrying of the thing, it is very handy! The pads on the other hand…have their cases or pouches and they are very light…but the careful factor will take president here.

OS warfare should not hamper the tabs like it did/does the laptop. Some machines come with preloaded OS and software and are locked down. Apple already allowed switching OS's on their PC's…I'm not sure if it's available on the iPad as well? Blackberry and Samsung?

These are some of the issues I think the tabs or pads must overcome before we can even think of them replacing the widely adopted laptop. Before we even go there, has the laptop even replaced the PC as we know it? That lone standing unit in your office or room, has this been replaced with a small, sleek laptop? If the laptop could not replace the PC, how then will the advent of all these new pads replace the laptop? I think that question right there…my genius has just come to the fore…that question will sum up everything ever said about technology replacing another technology. If the laptop in all its glory did not fully replace the PC, then how will the pads and tabs replace the laptop? If anything, the pad is not a new invention. Its just a bit more mainstream right now, it's in a fad moving to a fashion phase where you'll see every student and hip tech people have one, nonchalantly poking away on the touch screen at a coffee shop trying to be cool. The pad was around for many years before the iPad! It was only used for business purposes for various reasons, it took the laptop to replace the usage of the PC, but not the complete overtake we expected, if we did expect that? Those were the options you had as opposed to having a stand alone PC, a pad or a laptop…


iPad and Galaxy tab and the Playbook will not replace the laptop for various reasons, we have tried to help it replace the laptop by laying out a criteria by which we choose laptops today, if it can beat that criteria, it probably will, but a complete mainstream take over? No, even at Apple they don't all have iPads! Frankly speaking, I don't even think the purpose of these new technologies are to replace the laptop or the PC as we know it, maybe just become another option to the masses!