As you probably already know, Microsoft recently released the new IE9 Beta to the public. I always try to give new software a chance, so I downloaded it to see if it is any better than its predecessors.
Install
There are two versions available (32-bit and 64-bit) which I was really glad to see, as I have been wanting a 64-bit chrome for years and have yet to get one. The download and install of it took about 10 minutes, and required me to restart my computer (not something I am very fond of doing just to install an app).
Once rebooted I was ready to start trying it out.
Look and Feel
As I opened it, the google search page was immediately displayed, which was a bit of a surprise, but it only means that it kept my IE8 settings. The first major difference I noticed was the look.
Looks like Microsoft saw wisdom in Chrome's minimalistic outlay and got rid of all its old toolbars and buttons. Theres only the back and forward button next to the address bar (or "Onebox" as they call it now) and then three buttons in the right hand corner. Favourites, home, and settings.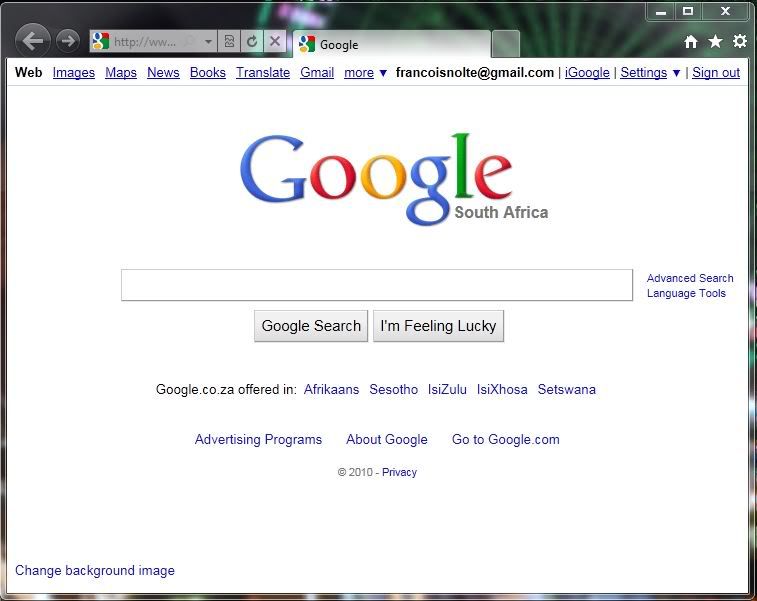 Microsoft bragged about a whole new JavaScript engine and the ability of the browser to use your GPU for graphics in the browser, so I browsed to some of the sites they suggested for me to see this huge difference.
Although it was much faster than all the previous versions of IE, I didn't notice much of a difference compared to Chrome and Firefox, who also have great JavaScript engines and support html 5.
Microsoft also implemented the ability to reorganise tabs easily, or to drag them out to make a new window. Although they did a better job than Firefox according to me, I still feel that Chrome takes the throne in this department.
With IE9 you can also get add-ons now(something Firefox started and Chrome followed suit). One thing that IE9 beats all the other browsers with is unsurprisingly how well it works with windows 7. You can pin a website to the taskbar, and you can see all the different tabs, and select one by simply hovering your mouse over the icon on the taskbar.
Microsoft decided not to support Windows XP at all with IE9, which is disappointment to many users I'm sure.
IE9 incorporates another favourite Chrome function of mine, which is that it displays a list of your most popular sites whenever you open a new tab. This allows you quick and easy access to the sites you visit most. It doesn't show a thumbnail as Chrome does however, but a small icon as you can see in the picture below. I much prefer Chrome's thumbnail idea.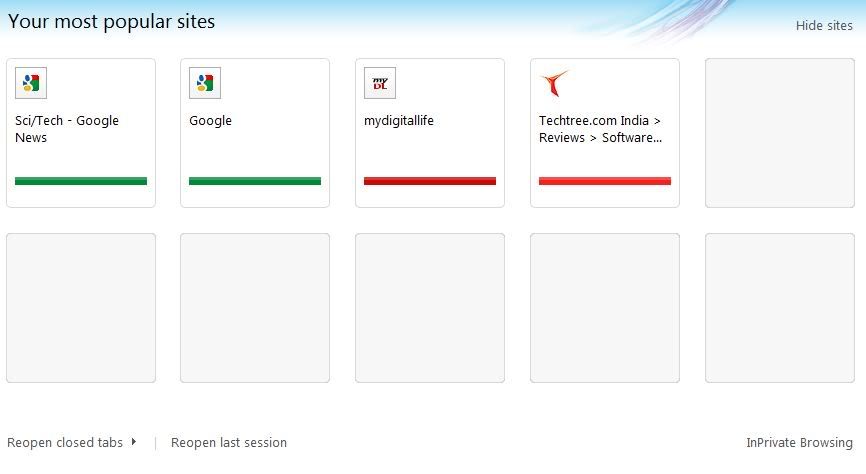 Its always bothered me that you don't have more control over which sites are displayed on this page in Chrome, and the same goes for IE9. You do have the ability to remove a site that you don't want there, but you can't add one that you DO want there, except by visiting the site frequently enough for it to be one of your most popular ones. In Chrome you can at least pin a site to that page, which isn't an option in IE9.
I'd also like the ability to show more than just 10 sites on the page, but alas, its a set amount.
Other features
IE9 has a brand new download manager, which allows you to restart a download, and generally works well.
The InPrivate browsing mode from IE8 is retained and works the same way that it used to.
Conclusion
Even though IE9 is a major improvement on all its predecessors, its not enough to make me switch from Google Chrome. Chrome still opens faster than IE9, and is just as minimalistic, even with some extensions installed.
The only feature I wish other browsers had was its integration with Windows 7, and a 64-bit version. It is still a beta version however, and so it still has potential to improve a lot in time. I will judge it again once the full release comes out, but for now I'm sticking to Chrome.
(Here is a site where you can see a preview of HTML 5 in chrome http://www.thewildernessdowntown.com/ It will probably work in IE9 and Firefox too. Its an interactive music video, quite cool to see how it reacts in real time to your mouse input.)